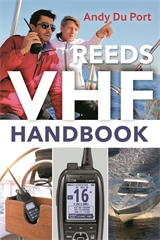 Welcome to our February Newsletter
Although the UK remains in another lockdown we are pleased to advise that we are still very much open for business to assist the shipping community.
Click & Collect is still available and we are continuing the dispatch via couriers.
Recently Published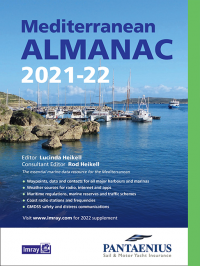 The essential companion and general handbook for the Mediterranean, the Imray Mediterranean Almanac 2020/21 is published in full colour.
All the harbour plans appear in the familiar Imray livery which adds clarity to their use. There are the usual detailed revisions throughout this edition, plus many new harbour plans.
The Imray Mediterranean Almanac is the ideal compendium of information for yachts on passage through the Mediterranean.
RRP£29.50 Available to order via emailing sales@southbankmarine.com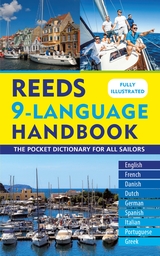 Being able to communicate with the local people is very important – whether it is to ask for a berth, a spare part or where the nearest chandlery or supermarket is. So, with this book, even if your pronunciation is a bit out, you should still be able to make yourself understood, quickly and efficiently, which makes this dictionary a vital part of your cruising kit.
The pocket dictionary is centered around clear, colour, annotated diagrams, such as parts of the rig and engine, in each nautical subject area, and makes it very easy and convenient to translate between nine languages (English, French, German, Dutch, Spanish, Italian, Danish, Portuguese and Greek). The diagrams can easily be used to show someone what is meant (or what is broken!) without having to worry about the language barrier. It covers general terms, such as 'port' and 'starboard', as well as technical words relating to engine and rigging repair and maintenance. Other topics include navigation, weather, seamanship, requesting help, medical emergencies, safety equipment, numbers and time.
Whether you're a keen offshore sailor, motorboater or even an armchair boating enthusiast, Reeds 9-Language Handbook is a handy reference tool that will help expand both your ability to communicate and your horizons.
Available in Paperback RRP£8.99 and PDF eBook RRP£8.09 Available to order via emailing sales@southbankmarine.com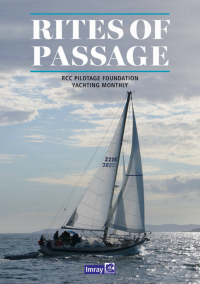 For some, sailing experience is measured through harbours visited and miles logged. But, certain stretches of water pose unique challenges and their reputations hold a strange power in the imagination of all who set sail. Completing one of these passages is an initiation, a rite of passage that leads to respect of others and a new self-confidence.

Yachting Monthly, the Royal Cruising Club Pilotage Foundation and Imray have collated a dozen or so of the milestone passages through, around and across British waters that should be on every cruising sailor's to-do list. The resulting Rites of Passage is an inspiring and informative book which will help all sailors, from those new to cruising to the much more experienced, reach those milestones.

With a nod to the 1980s book Classic Passages, and published as a series of abridged features in Yachting Monthly magazine from January 2019, the book includes expanded features, illustrated by photographs and pilotage information, about the passages and about the arrival cruising grounds including plans, tide diagrams and other key information.

RRP£24.95 Available to order via emailing sales@southbankmarine.com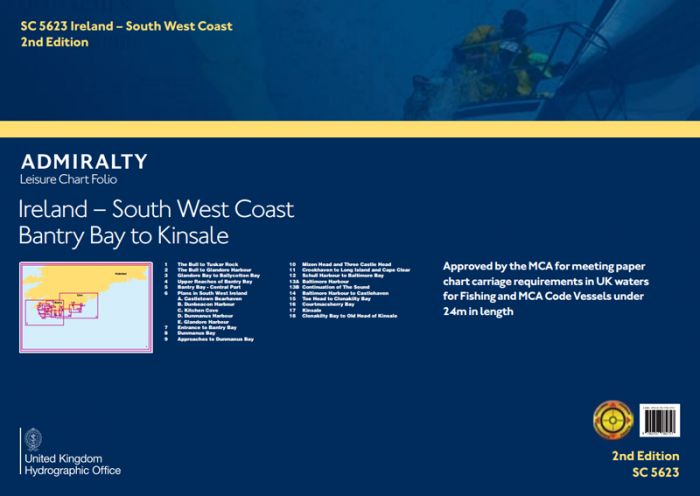 Charts included:
5623.1 – The Bull to Tuskar Rock (1:500,000)
5623.2 – The Bull to Glandore Harbour (1:150,000)
5623.3 – Glandore Bay to Ballycotton Bay (1:150,000)
5623.4 – Upper Reaches of Bantry Day (1:30,000)
5623.5 – Bantry Bay – Central Part (1:30,000)
5623.6 – Harbours and Anchorages in South West Ireland

Castletown Bearhaven (1:15,000)
Dunbeacon Harbour (1:10,000)
Kitchen Cove (1:10,000)
Dunmanus Harbour (1:10,000)
Glandore Harbour (1:25,000)

5623.7 – Entrance to Bantry Bay (1:30,000)
5623.8 – Dunmanus Bay (1:30,000)
5623.9 – Approaches to Dunmanus Bay (1:30,000)
5623.10 – Mizen Head and Three Castle Head (1:30,000)
5623.11 – Crookhaven to Long Island and Cape Clear (1:30,000)
5623.12 – Schull Harbour to Baltimore Bay (1:30,000)
5623.13

Baltimore Harbour (1:6,250)
Continuation of The Sound (1,6250)

5623.14 – Baltimore Harbour to Castlehaven (1:30,000)
5623.15 – Toe Head to Clonakilty Bay (1:50,000)
5623.16

Courtmacsherry Bay (1:25,000)
Continuation of Argideen River (1:25,000)

5623.17 – Kinsale (1:12,500)
5623.18 – Clonakilty Bay to Old Head of Kinsale (1:50,000)
This folio contains 18 nautical charts/ sheets. Due for release 4th February at £37.00 Available to pre order via emailing sales@southbankmarine.com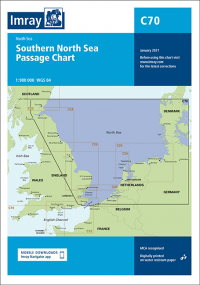 On this edition the chart specification has been improved to show coloured light flashes. The magnetic variation curves have been updated with 2020 data. Under new royalty terms, the DGA (Danish Geodata Agency) have made it unviable to reproduce their copyrighted data. All DGA data has been removed from this chart. There has been general updating throughout.

RRP£19.95 Available to order via emailing sales@southbankmarine.com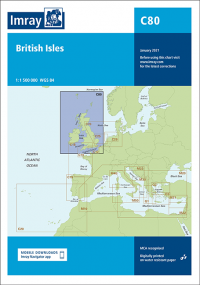 On this edition the magnetic variation curves have been updated with 2020 data. Under new royalty terms, the DGA (Danish Geodata Agency) have made it unviable to reproduce their copyrighted data. All DGA data has been removed from this chart. There has been general updating throughout.

RRP£19.95 Available to order via emailing sales@southbankmarine.com
COMING SOON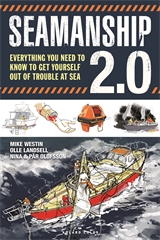 The knowledge to sort yourself out when encountering problems at sea is largely forgotten. How to find your way when the GPS plotter has a blackout, how to get yourself off when grounded, how to save the life of someone in your crew when the ambulance or SAR helicopter is hours away. Too many rely on technology to navigate and run their boats, and this beautifully illustrated handbook will be a literal backup when the tech fails, filled with core knowledge – seamanship – that all skippers should know anyway, whether they're in the middle of an emergency or not.
Packed with vital information, with handy fact boxes to highlight especially important information, the authors have lent a modern, real-world approach to the subject matter, and the wonderful illustrations bring it to life. Contents include:
– How to use this book
– This is Seamanship 2.0
– Seamanship: Best practice: engage your crew, voyage planning, staying on board, staying afloat, tight marinas, prepare for a storm, med mooring, catch a mooring buoy, anchoring, gale and storm tactics, towing
– Problem fixing: gas leak, when sails rip apart, a line in the prop, stuck anchor, engine problems, fuel problems, electrical problems, blackout
– Emergencies: man overboard, fire, holed and sinking, running aground, rudder failure, losing the mast, helicopter rescue, SAR boats, abandon ship, emergency communication
– First aid: DRABS, CPR, respiratory problems, circulation/shock, treating wounds, burn injuries, fractures and sprains, head injuries, hypothermia, seasickness, bites/stings, abdominal pains, first aid kit
Published in Sweden by the Swedish Cruising Association, this fantastic book has sold over 25,000 copies. Read this now to give yourself the knowledge to get out of trouble and (even better) avoid getting into it in the first place.
RRP£14.99 Due for release 18th March 21. Available to pre-order via emailing sales@southbankmarine.com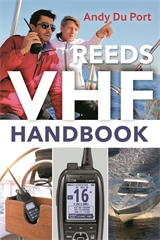 The Reeds VHF Handbook is an accessible, user friendly but comprehensive guide to marine VHF radio that helps users quickly get up to speed with all the functions on their equipment. Straightforward explanations and tips describe the leisure VHF DSC radio system in detail and its place within GMDSS.

This brand new book incorporates all the information required to pass the Short Range Certificate, which is compulsory for anyone using a VHF DSC radio, and forms part of the process of obtaining the Day Skipper qualification. The book covers radio procedure, channel allocation, VHF radio theory and more, along with a full explanation of GMDSS, including details on EPIRBs, SARTs and Navtex.

The Reeds VHF Handbook is an essential onboard reference, and set to become the standard work on the subject.

RRP£17.99 Due for release 18th March 21. Available to pre-order via emailing sales@southbankmarine.com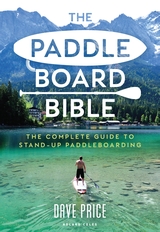 Stand-up paddleboarding is the fastest growing watersport in the world – with only a little knowledge and practice, pretty much anyone can get up and get moving, and then there's no limit to where SUP can take you. This complete guide gives you everything you need to know to get started, and much more besides.
All the basics are here, from fundamental equipment (a guide to boards, including bargain-priced inflatables, as well as paddles, clothing and simple safety gear) to essential techniques (getting on, getting moving and, just as importantly, landing and getting off). Along with challenges and games to play with your new paddleboarding buddies, the book explores places to go and things to see, from rivers and canals to coastlines and travel further afield. The book also explains all the important stuff you might need to understand about weather, tides, waves and currents.
However, The Paddleboard Bible then goes much further. It will take you on paddleboard adventures, from night paddles (showing you the world from the water in a way you've probably never seen it before) to wildlife-spotting safaris and unique photography opportunities; it even reveals the benefits of fishing from a paddleboard. And it's not all gentle stuff – for adrenaline junkies there is SUP surfing, riding white water rapids and for the more competitive types, SUP racing.
SUP is also great for fitness (you haven't done yoga until you've done SUP yoga) and there's a booming social side too. It's a fantastic way to meet new people, join groups, go to events and go on unique tours.
However you want to get into stand-up paddleboarding, whether you're curious about trying it one afternoon, want to dive into it as a new hobby or really get involved in the scene and the lifestyle, then The Paddleboard Bible is the one-stop book that covers everything you need to know about the most accessible and inexpensive paddlesport.
Available in Paperback RRP£17.09 and PDF eBook£15.19. Due for release 18th March 21. Available to pre-order via emailing sales@southbankmarine.com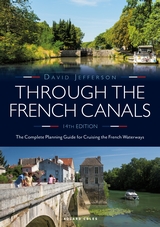 Through the French Canals has probably tempted more people to explore the beautiful waterways of France than any other book. First published in 1970, it's been the key authoritative title on cruising the French canals ever since.
The revised new edition is the essential comprehensive planning guide for anyone wanting to cruise through the French waterways or take their boat from the English Channel through to the Mediterranean via the inland route. It includes: over 50 routes fully described and illustrated, with positions of locks, towns and villages through routes from the English Channel and Atlantic to the Mediterranean, plus distances, and assessment of suitable boats for the canals. It also provides dimensions of locks and operating times, details of bridge heights, canal depths, fueling points, waterway signals, a guide to the cost of living, shopping and stores, sources of weather information, halts for overnight stops, and ports de plaisance.
As well as new photography, the new edition is updated throughout with new information on local facilities, new halts and ports de plaisance, new VNF License fees, revisions to cruise hire companies, updated references to holding tanks, the availability of diesel and costs of cruising and much more.
Available to order in Paperback RRP£22.50 and PDF eBook RRP£20.25 Due for release 15th April 21. Available to order via emailing sales@southbankmarine.com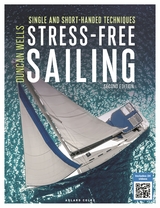 This brand new edition of Stress-Free Sailing is the answer to single or short-handed crews' prayers – a step-by-step handbook addressing the most common sailing situations that anyone cruising will have to manage.

Here you will find clever, highly effective and successfully tried and tested shorthanded solutions for dealing with everything from getting off and then back onto the dock in a variety of wind and tide configurations, sail setting and reefing, mooring and anchoring, to sailing in heavy weather and new techniques for man overboard, all clearly illustrated with straightforward diagrams and sequence photos. 24 QR codes dotted throughout the book link to online video demonstrations to bring the techniques to life.

As single or short-handers you have to plan carefully, prepare properly and be able to anticipate. This new edition is a godsend with its original techniques for coping in every situation. It is fully revised throughout with new practical tips and advice on mooring, navigation, anchoring and safety at sea.
Available in Paperback RRP£16.19 and PDF eBook RRP£14.57 Due for release 10th June 21. Available to order via emailing sales@southbankmarine.com