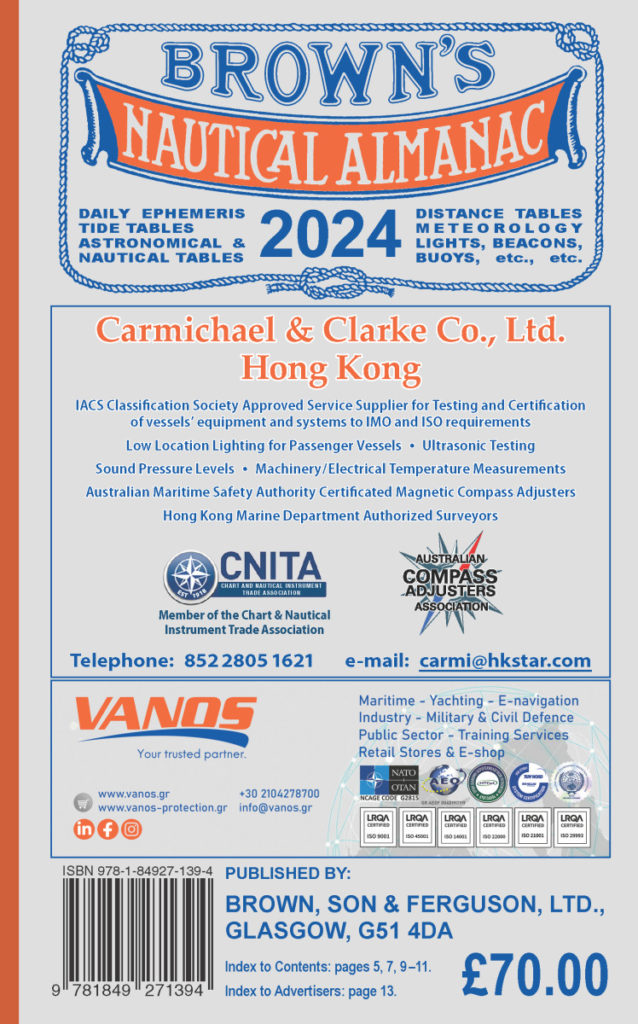 !NEWS!
Welcome to our November Newsletter
Brown's Nautical Almanac 2024
Established in 1850 on the south side of the River Clyde in Glasgow, Brown, Son & Ferguson Ltd. soon started publishing books for the sailing ships that visited the city. In these early days, few publications on maritime affairs were available, and its range of titles steadily grew. A new and exciting era dawned for the firm with the first issue of Brown's Nautical Almanac in 1876.
Every year it continues to be completely revised with ongoing care and attention given to its preparation.  Sailors will find a wealth of detailed information, including; Buoyancy, Distance Tables, Marine Safety, Navigation, Stability, Tide Tables for World Ports and Time Zones.  This list is by no means exhaustive, and sailors will find a host of useful information throughout the book.
RRP £70.00
Ionian, 11th Edition
Covering the coast and islands southwards from Corfu to Finakounda and eastwards to Mesolongion, this much-loved guide contains more detail of many of the smaller anchorages and harbours than are comprehensively covered in Rod Heikell's Greek Waters Pilot.
Like its companions West Aegean and East Aegean, Ionian is ideal for charterers and flotilla sailors who are onboard for a relatively short time, but also for longer term cruisers on their own yachts who are looking for additional pilotage and background information for this popular cruising ground. As with all the Heikell guides, Ionian not only gives all the essential information you need but also exudes the charm and flavour of this corner of the Mediterranean.
RRP £24.95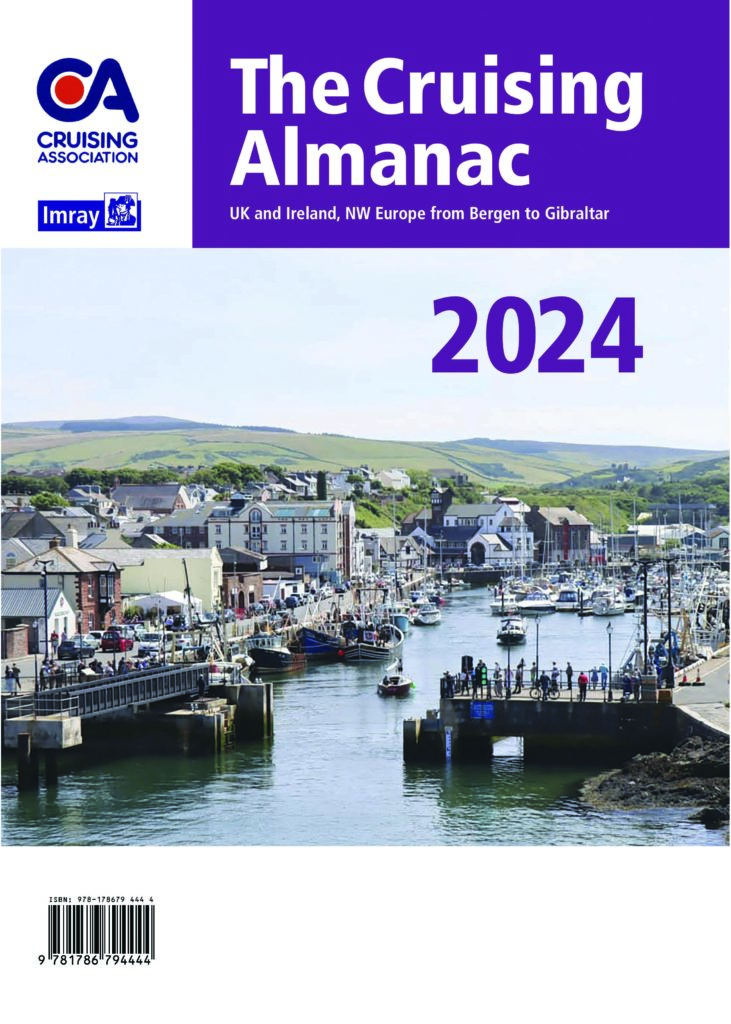 The Cruising Almanac 2024
The Cruising Almanac remains the perfect onboard companion for cruising sailors, providing a hard-copy source of information packed with data to help passage planning and for quick reference to hundreds of ports and marinas. The Almanac encompasses Northwest Europe from the Shetlands to Gibraltar and from the Baltic to the west coast of Ireland.
This 2024 edition includes some changes to the presentation of essential information to make it more readily accessible. The Netherlands section has been revised so that the format conforms to the other regions. A new chapter for Northwest Spain has been created to allow more extensive overall coverage of the Spanish and Portuguese Atlantic coasts.
2024 tide tables for 47 standard ports are included in a separate booklet.
RRP £39.50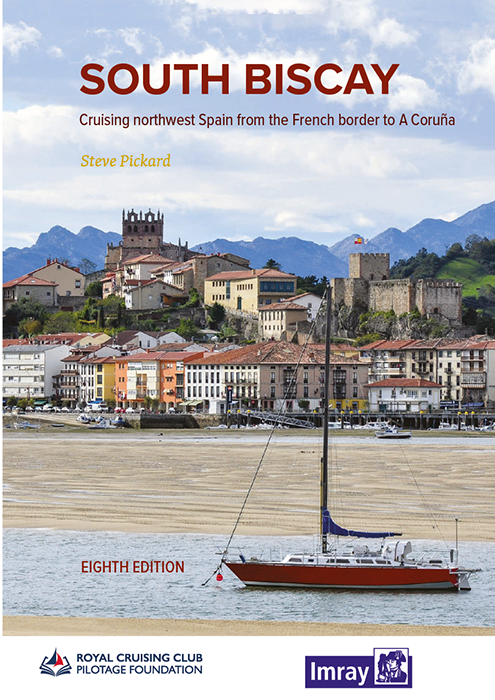 South Biscay
The eighth edition of the Royal Cruising Club Pilotage Foundation's South Biscay pilot covers the Spanish coast of the Bay of Biscay coast from Hendaye on the French border to A Coruña in Galicia.
This edition has been completely revised and updated by author Steve Pickard, with comprehensive information on marinas, ports, anchorages and sailing passages accompanied by new photographs and updated Imray chartlets. Introductory sections give a taste of the region both in terms of history, culture and tourism but also provide detailed information on regulations, weather patterns and other topics relevant to yachts.
South Biscay is the complete reference for yachts exploring this long Biscay coast of Spain.
RRP £39.50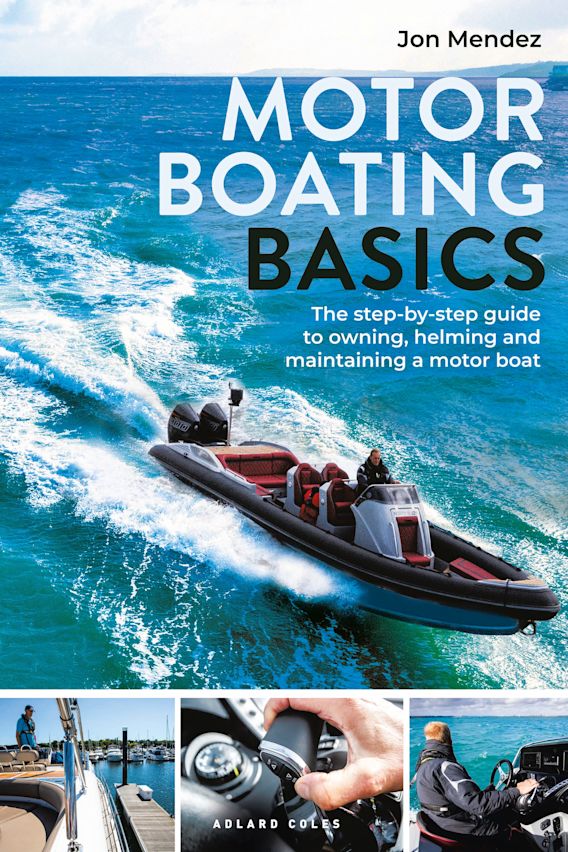 Motor Boating Basics
Motor Boating Basics is the ultimate collection of visually clear and straightforward 'how-to' guides on all aspects of motor boat handling and ownership, designed to make motor boating as accessible as possible for even the newest enthusiasts. Each chapter follows the same helpful format covering a topic, with an introduction followed by six simple, illustrated steps to show you exactly what you need to do at each stage of the process.
This book is an ideal introduction to motor boat ownership, driving and maintenance, and covers topics on:
– Essential skills
– Boat maintenance
– Navigation
– Berthing
– Boat handling
By breaking everything down into easy to follow steps, even the most inexperienced boater can master new skills quickly, and old hands will find something new in the useful hints and tips added by the author, Motor Boat and Yachting magazine's Jon Mendez.
RRP £18.99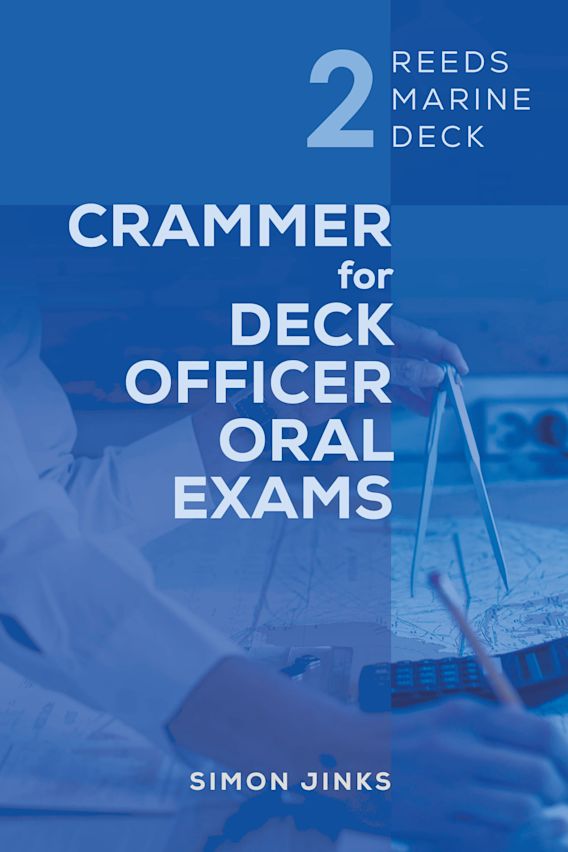 Reeds Marine Deck 2: Crammer for Deck Officer Oral Exams
A no-nonsense study guide helping seafarers to pass their MCA or Flag State oral exams for Deck Officer qualifications.
This handy revision guide is the one book that Deck Officer Cadets, Master and Deck Officers will want by their side when studying for the much-feared oral exams. Expert marine training director Simon Jinks strips back the masses of information to the core essential points that are easy to absorb and quick to remember when it comes to the oral assessment.
The MCA Deck Officer (Officer of the Watch, Chief Mate and Master) syllabi cover a vast amount of information that candidates are required to understand and use in their oral exam, which for many presents a major stumbling block to qualification. While it inevitably takes a long time for candidates to build up this wealth of knowledge, this study aid is the perfect refresher, listing the key points and including helpful sample questions and worked examples on tidal working, radar plotting and more.
Written in simple terms, this trusted crammer covers all the principal areas of the MCA's exam syllabus, including sections on business and law conventions, pollution prevention, responses to emergencies and distress signals. Clearly presented, it is packed with straightforward diagrams and flow charts, making it ideal for revising.
This is an invaluable reference for all international STCW Deck Officer candidates, and covers both MCA and Flag State oral exams. It is also suitable for Near Coastal and Boatmaster apprentices, Workboat crew apprentices, Yachtmaster Offshores, Yachtmaster instructors, and fishermen going for their fishing licences on larger vessels, and for shore workers such as vessel superintendents, maritime managers and trainers. There is specific information for all vessels, with sections on smaller, code and domestic vessels.
RRP £27.00
Due To Be Published
No new announcements