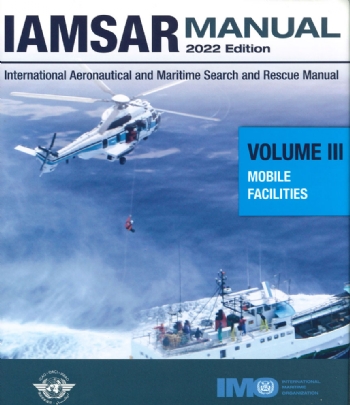 !NEWS!
Welcome to our April Newsletter
Recently Published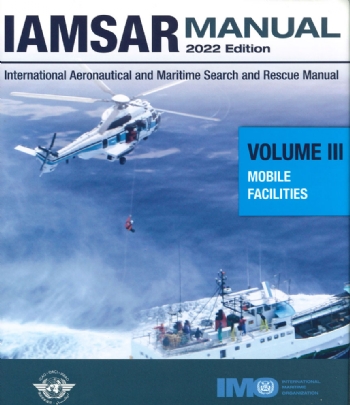 Mobile Facilities (volume III) is intended to be carried on board rescue units, aircraft and vessels to help with performance of a search, rescue or on-scene coordinator function and with aspects of SAR that pertain to their own emergencies.

It also includes Action Cards on: Basic communications plan structure; On-scene coordination; Recovery of people in the water; Man overboard; MEDEVAC by helicopter; and MEDICO-MEDEVAC Medical assistance or evacuation.

RRP £80.00  Available to order.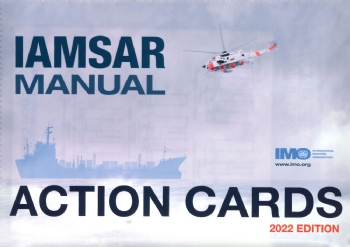 Contained in a handy waterproof wallet, the IAMSAR Volume III Action Cards can be removed individually for ease of reference in case of an emergency at sea. They cover:
Basic communications plan structure
On-scene coordination
Recovery of people in the water
Man overboard (MOB)
MEDEVAC by helicopter
MEDICO-MEDEVAC Medical assistance or evacuation
These cards assist personnel who plan and coordinate SAR operations and exercises and can also serve as useful aids for training purposes.
RRP £25.00.  Available to order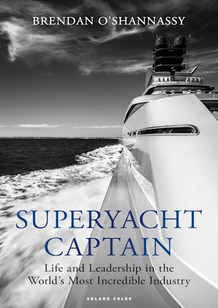 n Superyacht Captain, a professional at the zenith of the world's most lavish and exclusive industry gives a rare insight into a career that is entertaining, instructive and at times daunting in its scale.

The tale of an ordinary boy whose career takes him on a most extraordinary journey, this book begins with Brendan messing about in boats in a sleepy coastal Australian town, and ends with him becoming one of the most successful and respected superyacht captains in the World – the consummate 'Billionaire's Captain'. Spanning two decades and circling the globe, his story intimately draws readers into the real world of superyachts, their crew and their owners. It is Brendan's love letter to an industry he respects and holds so dear to his heart.

It's the story of stepping out and embracing uncertainty – failing, learning and repeating – weaving in in the lessons he's learned as he's progressed from deck hand to captain, Brendan's insights are valuable for anyone leading teams with demanding objectives. Surprisingly humble and self aware, in a world of glitter and extravagance you can see why he's trusted. All of this is told against a backdrop of seemingly impossible glamour at the most extravagant edge of the global wealth spectrum, with plenty of entertaining stories of the superyacht lifestyle.

A brilliant read for all, for the superyacht fans, as well as anyone interested in leadership and management techniques from someone at the top of their game, working for those who define the rules of the game.
RRP £12.99.  Available to order.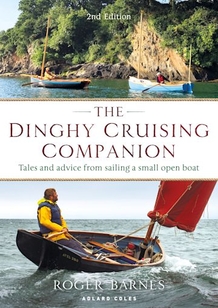 Dinghy cruising is a wonderful way to experience nature and new coastlines at close quarters and low cost. Sailing where larger boats cannot reach and sleeping under canvas onboard or ashore, this is boating taken right back to the basics, and all the better for that. This guide, updated and expanded for its second edition, is invaluable for all aspiring or already-enthusiastic dinghy cruisers, showing how to get started and how to expand your horizons.

The information and advice is interwoven with wonderfully evocative stories of the author's adventures afloat, from idyllic weeks pottering around secluded rivers and coastlines to hair-raising voyages to remote islands. The text covers: finding a good boat; fitting out for daysailing; boatcraft under engine and oar; mooring and anchoring; preparing for open water; out at sea; coastal navigation; dinghy homemaking; keeping comfortable and safe. And for this new edition, an account of the author's first capsize, new material on electronics and clothing, and more information on boat designs.

Illustrated throughout with inspirational colour photos and helpful illustrations, this book shows just why small boats are the perfect passport to remote and beautiful places.
RRP £17.99.  Available to order.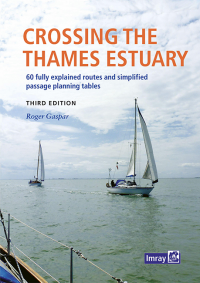 The Thames Estuary is a complex and challening area with narrow channels, shoal waters, determinded tides and shifiting sands, plus busy shipping traffic, three major ports and six wind farms in and arround it.  But its waters are also fascinating, interesting and have a wide selection of destinations to enjoy.  This book describes 60 safe, viable and feasible routes between the Kent, Essex and Suffolk rivers for safe passage and wholly new time-planning tables which are now simplified with significantly additional and readily available information.
The third edition retains all poplular features describing and illustrating each sector of each route, with waypoints and "rolling road" diagrams, providing information and advice about potential or permanent hazards, the implications for the tide and guidance about shipping routes and anchorages.
It includes new and unique passage planning tables which are simple, accurate and quick to use.  Readers can select the most appropriate start time will instantly see predicted arrival time so as to have sufficient time to continue up river to an ultimate destination.

Options are offered for every 30 minutes of the day, whatever the day.  The tables not only provide the best predicted start time – for the quickest passage duration – for each route at 4, 5, 6 or 7 knots boat speed, but display alternative passage durations, whatever the tide.
Tables provide easier access and a much broader basis of information than in earlier editions, presented alongside more detailed chartlets and a new portrait format book.
Sailors benefit from swatchways in the Estuary which shorten time and distance for many passages.  However, as they're liable to move or change as sands shift, the author endeavours to survey several critical swatchways, monitors and provides illustrated Notices to Mariners weekly and receives reports from readers.  Any significant changes or downloads are reported by updates on the website or by email to readers on the "Readers' Update" list.

 RRP £29.50  Available to order.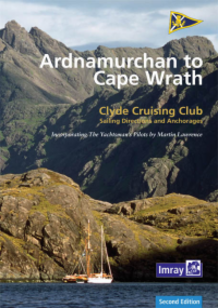 Covers the north section of the West Coast of Scotland from Ardnamurchan Point to Cape Wrath, including the whole of Skye and the Small Isles.

This thoroughly revised second edition contains updates to the text and plans.

'A typical high quality Imray product: clear print on good paper with profuse illustration by chartlet and photography – edited with all the authority of those who have 'been there'. There is much fine aerial imagery and a robust spiral binding allows open-flat handling, convenient for chart table and cockpit use. An impressive successor to the well-respected originals'. Cruising Association Magazine

 RRP £32.50  Available to order.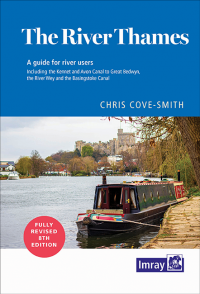 The River Thames Book, now in its 8th edition, is the best-selling guide to the non-tidal Thames from Teddington to its source in Gloucestershire.

This complete guide covers the Barrier to Cricklade with the River Wey, Basingstoke Canal and the Kennet & Avon Canal to Great Bedwyn. Chris Cove-Smith's updated text describes the navigation with support of clear and detailed mapping. The River Thames Book also lists in exhaustive detail the facilities to be found along each section of the navigation.

 RRP £14.95  Available to order.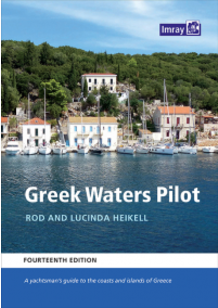 Greek Waters Pilot is the definitive cruising guide to the coasts and islands of Greece, covering the entire area from the Ionian Islands to the Aegean, Rhodes and Crete and includes details of over 450 harbours and anchorages in a single volume.

Greek Waters Pilot has been painstakingly compiled from Rod and Lucinda Heikell's own survey work and exploration over four decades, as well as first-hand information from their network of contributors.

The organisation of so much detail within the confines of a single volume is impressive. This, the fourteenth edition, marks the fortieth anniversary of the first edition of this celebrated cruising guide. It has once again been thoroughly updated to reflect developments and changes across the whole region.

Enriched with fascinating historical, mythological and gastronomic information, Greek Waters Pilot is an incomparable resource and companion for anyone planning to spend time in these endlessly enticing waters.

 RRP £49.50  Available to order.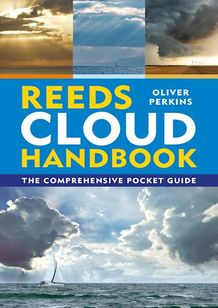 Reeds Cloud Handbook is a quick-access, easy-to-use guide to identifying cloud types and how to predict what each cloud type can tell us about the weather and predict how it will change.

This concise pocket reference will appeal to those who spend time outdoors and wants to better understand the weather, with its principal focus for sailors and also anyone going walking, fishing, cycling etc. This portable handbook will give you the essential information about common and unusual cloud types, how they form and what weather patterns are associated with them.

Fully illustrated with colour photography and clear diagrams, this cloud identification guide includes sections on different weather patterns and how clouds form, different clouds according to where they appear in the sky, related features and different forms of fog. Each entry gives guidance on how and when to spot different cloud types and effects, and how the clouds relate to wind and rain patterns.

 RRP £9.99.  Available to order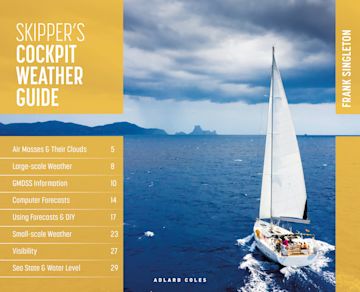 With weather conditions continually evolving, skippers need to factor forecast data into every passage plan and be prepared to modify it if the situation changes. This spiral-bound instant reference guide will help you draw the most relevant weather information from a variety of sources, understand and apply broader forecast data to your location and your anticipated route, and know when and how to make those necessary alterations.

In clear, practical language, and with diagrams, photographs, explanations and bulleted lists, the book is also a useful primer or overview for RYA Coastal Skipper and Yachtmaster Offshore students by following the contents of the course:
– Basic terms / the Beaufort Scale
– Air masses
– Cloud types
– Weather patterns associated with pressure and frontal systems
– Sources of weather information
– Interpret a shipping forecast, weatherfax and weather satellite information
– Land and sea breezes
– Sea fog
– Use of a barometer as a forecasting aid

As a reference before sailing, a reminder of what is available for use before going to sea, and a guide to what to look out for and use when sailing, this practical handbook is aimed at skippers and crew of all levels, whether on day cruises or longer ocean-going passages. Spiral bound to lie flat and printed on splashproof paper, it is the ideal hands-on weather-focused passage planning guide, but with lots of tips for use on board it is the essential aide-memoire to have on the boat.

RRP £12.99.  Available to order.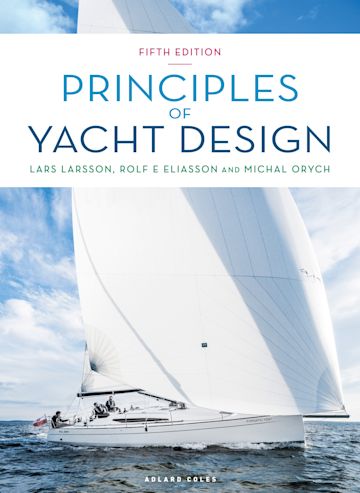 Principles of Yacht Design has established itself as the standard book on the subject for practising designers, naval architecture students, discerning boat owners as well as the boatbuilding industry as a whole. The fifth edition is completely revised and expanded. It examines every aspect of the process of yacht and powerboat design. The new edition includes new findings from recent research in aero and hydrodynamics, as well as covering the most recent changes to building standards.

The authors have used a newly built 41-foot performance cruiser to demonstrate the practical application of yacht design theory. This new edition includes photos of the building process and detailed explanations.

RRP £65.00  Available to order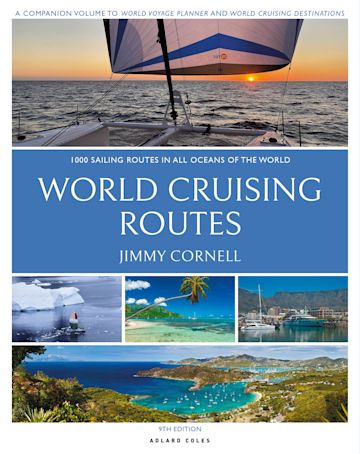 Long established as the bible for long-distance cruisers and a bestseller for more than 25 years, World Cruising Routes is the indispensable planning guide to nearly 1,000 sailing routes covering all the oceans of the world from the tropical South Seas to the high latitudes of the Arctic and Antarctic, geared specifically to the needs of cruising sailors. It contains information on the winds, currents, regional and seasonal weather, as well as suggestions about optimum times for individual routes.

This new, fully revised and updated 9th edition assesses how changes around the world (including Brexit and Covid) have affected cruising routes and how climatic change has altered the cruising landscape and necessitated adaptations in timing and route-planning. It provides over 6,000 waypoints to assist skippers in planning individual routes, and is the perfect one-stop reference for planning a cruise anywhere in the world.

RRP £60.00  Available to order.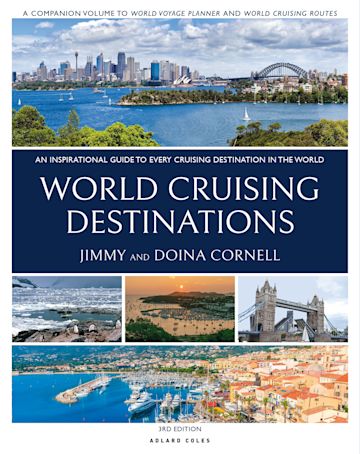 One of the most influential cruising yachtsmen writing today, Jimmy Cornell has sailed over 200,000 miles on all the oceans of the world, including three circumnavigations and voyages to the Arctic and Antarctic. His successful guide to sailing around the world, World Cruising Routes, has helped many aspirational voyagers turn their dreams into reality and follow in his footsteps. Here in its extensively revised third edition is its partner, covering all the land-based essentials for cruisers, including new updates throughout on the long-lasting impact of climate change, Brexit and Covid.

This substantial handbook profiles every cruising destination in the world, with information on cruising attractions, history, culture, climate (including average monthly temperatures and rainfall, plus tropical storm seasons), local laws, regulations and formalities, facilities, plus public holidays and events, emergency telephone numbers, and much more. Lavishly illustrated throughout, it is not only a must-have onboard reference work for long distance sailors, but will undoubtedly inspire the adventurous to sail where they have never sailed before.

RRP £50.00  Available to order.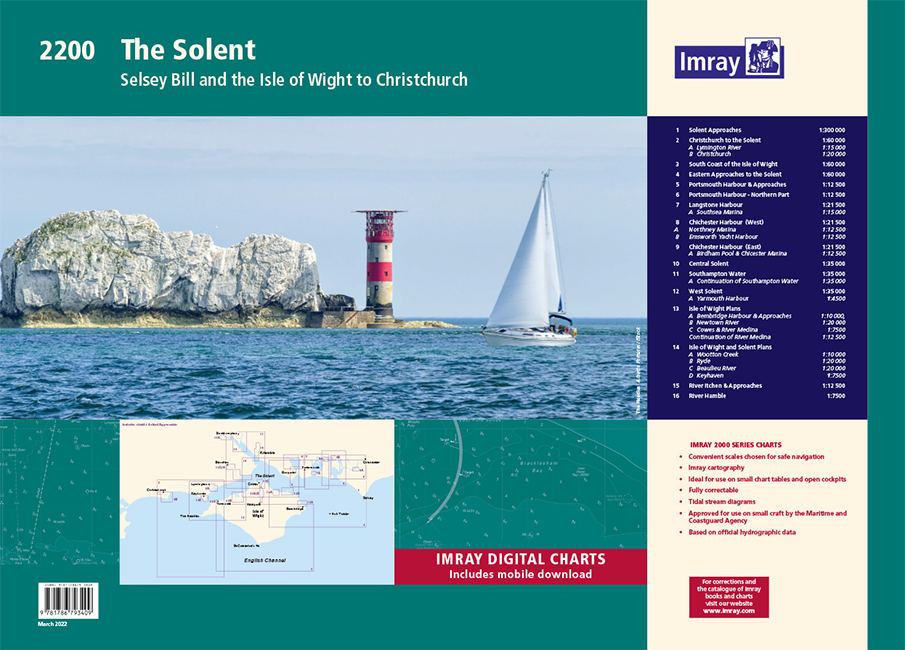 A convenient A2 format chart pack of The Solent and Isle of Wight provided in a sturdy plastic wallet.

This fully revised and extended edition of this popular chart pack has been redesigned and expanded to 16 sheets.  It includes the latest official UKHO data, combined with additional information sourced from Imray's network to make it ideal for small crafts.  The chart pack includes all the navigational charts and tidal data for passage, approach and mooring.

Included in this addition is improved coverage of the East Solent harbours.  Chichester, Langstone and Portsmouth Harbour are now shown across five new sheets allowing these harbours and approaches to be covered at a better scale.

A new sheet has been added to show coastal navigation off the south coast of Isle of Wight, and a new index sheet of the Solent Approaches is now included.

 RRP £45.00  Available to order.
COMING SOON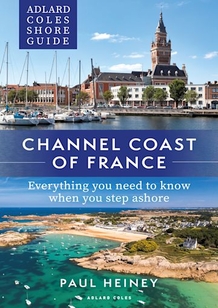 Sailors planning a cruise abroad use a pilot book, which gives you all the navigational advice to get you to your destination. Once you've closed the pilot book, this book will help you enjoy all that your destination has to offer. What can you discover within walking distance of the port? Where can you find fuel, laundry and food supplies? The main reason for going on a cruise in the first place is to explore new and lovely places. Sailors won't decide to stop at a port because of an interesting pilotage challenge, but you will for an amazing moules frites place hidden away. General guidebooks won't tell you everything you need to know, and will include a lot of info on places you can't reach. Adlard Coles Shore Guides provide the essential information and ideas to make the most of your time ashore.

Paul Heiney, a hugely experienced sailor, journalist and author, is the perfect companion for exploring the pretty harbours and beautiful beaches of the Channel Coast of France. The book is lavishly illustrated with the author's own photos of this alluring coastline's bustling ports and hidden gems.

Chapters arranged by region and port will detail why each place is worth visiting, what to see, where to find essentials such as fuel and repairs, transport connections, places to visit, best cafes and restaurants, walks (sailors need to stretch their legs when they go ashore), bike rides, best beaches and activities for the kids, all organised into categories by distance from the port or harbour – 10 minutes' walk, 30 minutes' walk and further afield.

Due for release May 2022. RRP £18.99  Available to pre-order.