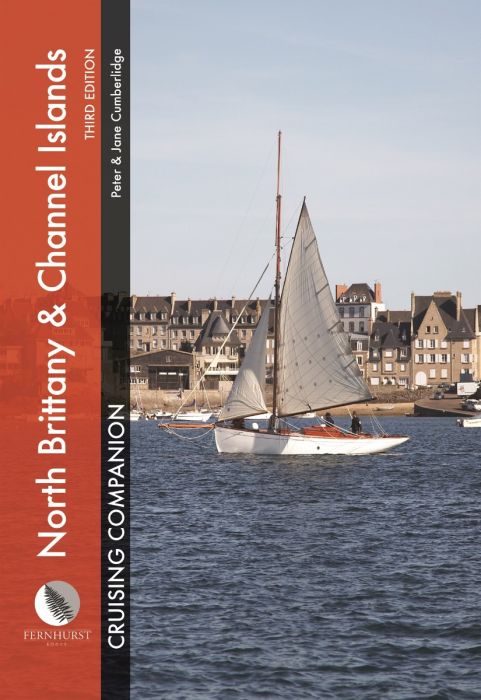 Welcome to our April Newsletter
Orders for our EU Customers

Welcome to our monthly newsletter, following the UK's exit from the EU in January there are recent changes to import and export duties. This has subsequently resulted in delivery delays.

When ordering goods for delivery outside the UK, your consignment may be subject to import duties and taxes.  Charges are applied by the destintation country and we have no control over these.  The responsibility for the payment falls to the receiving party.

We are were possible endeavouring to ensure these delays are kept to a minimum.
Recently Published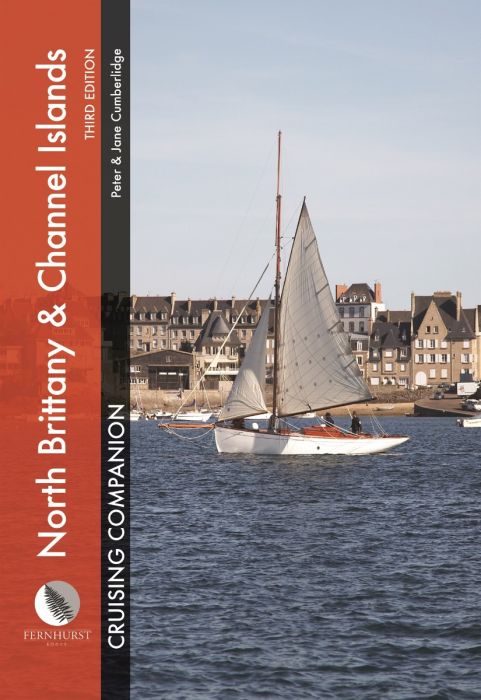 The long-awaited update of this best-selling cruising companion covering the whole spectacular North Brittany coasts, the Channel Islands and the fascinating harbours on the west side of the Cherbourg peninsula.
Packed with comprehensive pilotage and nautical information as well as suggestions of where to eat and what to do ashore: an authoritative guide designed to help you make the most of your visit to this fabulous area. It is enhanced with colour charts and detailed photography, including spectacular aerial shots of ports, harbours and anchorages.
Share Peter & Jane's joy of cruising in this fabulous area which has enabled them to create a text which will inspire and inform you and help you love the area as much as they do.
RRP£42.50. Available to order via emailing sales@southbankmarine.com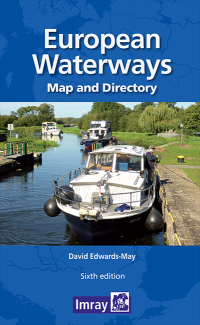 A map and directory designed as a first source of information when planning a trip on the waterways of Europe.

Double -sided. Side one- Europe from Ireland and Portugal to the Caspian Sea – dimensions 1210 x 870 mm. Scale 1:4 000 000- enlargement on reverse, with unprecedented detail, covering Dublin to Bratislava on the Danube scale 1:1 500 000. Includes a brief description of waterways in each country, followed by addresses of waterway authorities, boating associations etc.

The directory describes the waterway network country by country and provides a mass of information of value to all those who are interested in inland navigation as a mode of transport, but also, for a growing number of enthusiasts – a way of life. The two maps (front and back of the sheet) cover the same areas as the previous edition: from Ireland and Portugal to the Caspian Sea and, on the other side, a significantly enhanced map covering the denser part of the network, from Dublin to Bratislava on the Danube. The booklet accompanying the map includes many colour photos and larger-scale maps of particular areas.

The map has a legend in English, French, German and Dutch (booklet in English only).
Available in Paperback RRP£19.00. Available to order via emailing sales@southbankmarine.com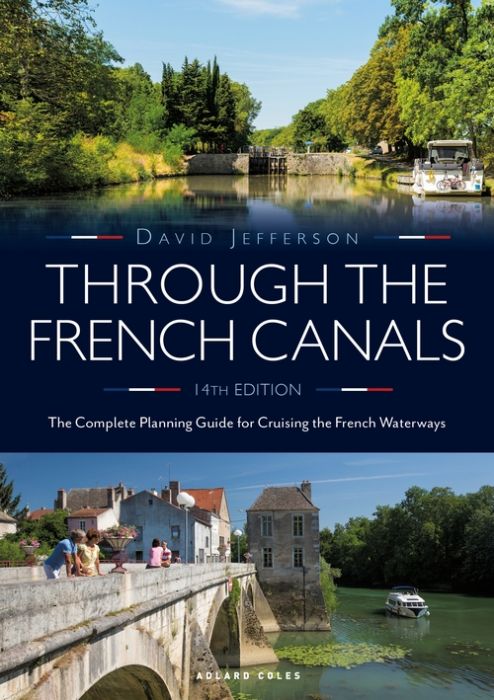 Through the French Canals has probably tempted more people to explore the beautiful waterways of France than any other book. First published in 1970, it's been the key authoritative title on cruising the French canals ever since.

The revised new edition is the essential comprehensive planning guide for anyone wanting to cruise through the French waterways or take their boat from the English Channel through to the Mediterranean via the inland route. It includes: over 50 routes fully described and illustrated, with positions of locks, towns and villages through routes from the English Channel and Atlantic to the Mediterranean, plus distances, and assessment of suitable boats for the canals. It also provides dimensions of locks and operating times, details of bridge heights, canal depths, fueling points, waterway signals, a guide to the cost of living, shopping and stores, sources of weather information, halts for overnight stops, and ports de plaisance.

As well as new photography, the new edition is updated throughout with new information on local facilities, new halts and ports de plaisance, new VNF License fees, revisions to cruise hire companies, updated references to holding tanks, the availability of diesel and costs of cruising and much more.

Available to order in Paperback RRP£22.50 and PDF eBook RRP£20.25. Available to order via emailing sales@southbankmarine.com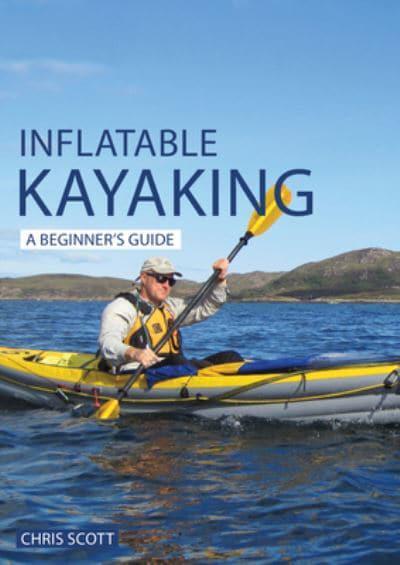 There has been an explosion of interest in paddling right across the world – in 2020, British Canoeing reported a 40% rise in members, with 19,000 signing up in a 3-month period. Much of this interest has been in inflatable kayaks, with the author's own website (inflatablekayaksandpackrafts.com) averaging 1,000 visits a day.  
The comparatively low cost, the convenience of inflatable kayaks, and the fact that you can just get in and go, all add up to their appeal. And with thousands of miles of waterways in the UK, most are within reach of a river or canal where you can paddle your kayak and enjoy being in the fresh air, gently travelling through the natural world. You see the country from a different perspective and in an eco-friendly way.
But, as with everything, a little bit of knowledge and technique makes the experience so much more enjoyable! That is where this book comes in.
It provides a perfect introduction to the sport. It takes you through the different types of inflatable kayaks, so you buy the one that is right for you. It shows you the basic on-the-water skills that you will need, including getting in and out, how to paddle straight and turn. It outlines the gear you will need and talks about where to paddle as well as weather, safety, maintenance and repair of your equipment. It covers kayaking in rivers and canals, lakes and lochs, and coastal kayaking.
All aspects are heavily illustrated with colour photographs making it easy to understand and clear to follow.

Available to order in Paperback RRP£10.99. Available to order via emailing sales@southbankmarine.com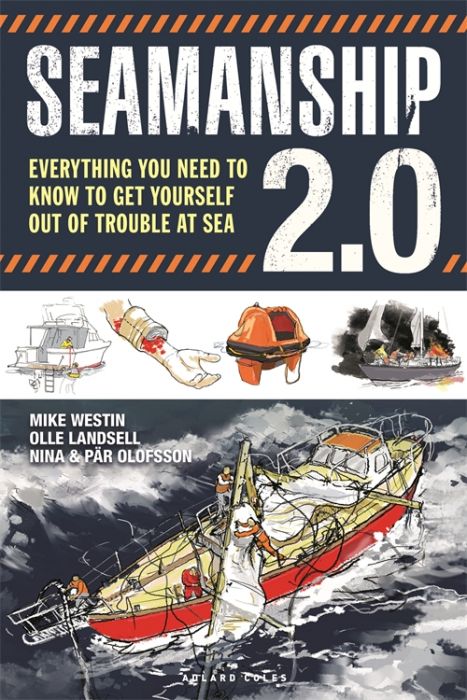 The knowledge to sort yourself out when encountering problems at sea is largely forgotten. How to find your way when the GPS plotter has a blackout, how to get yourself off when grounded, how to save the life of someone in your crew when the ambulance or SAR helicopter is hours away. Too many rely on technology to navigate and run their boats, and this beautifully illustrated handbook will be a literal backup when the tech fails, filled with core knowledge – seamanship – that all skippers should know anyway, whether they're in the middle of an emergency or not.

Packed with vital information, with handy fact boxes to highlight especially important information, the authors have lent a modern, real-world approach to the subject matter, and the wonderful illustrations bring it to life. Contents include:

– How to use this book
– This is Seamanship 2.0
– Seamanship: Best practice: engage your crew, voyage planning, staying on board, staying afloat, tight marinas, prepare for a storm, med mooring, catch a mooring buoy, anchoring, gale and storm tactics, towing
– Problem fixing: gas leak, when sails rip apart, a line in the prop, stuck anchor, engine problems, fuel problems, electrical problems, blackout
– Emergencies: man overboard, fire, holed and sinking, running aground, rudder failure, losing the mast, helicopter rescue, SAR boats, abandon ship, emergency communication
– First aid: DRABS, CPR, respiratory problems, circulation/shock, treating wounds, burn injuries, fractures and sprains, head injuries, hypothermia, seasickness, bites/stings, abdominal pains, first aid kit

Published in Sweden by the Swedish Cruising Association, this fantastic book has sold over 25,000 copies. Read this now to give yourself the knowledge to get out of trouble and (even better) avoid getting into it in the first place.

RRP£14.99. Available to order via emailing sales@southbankmarine.com
COMING SOON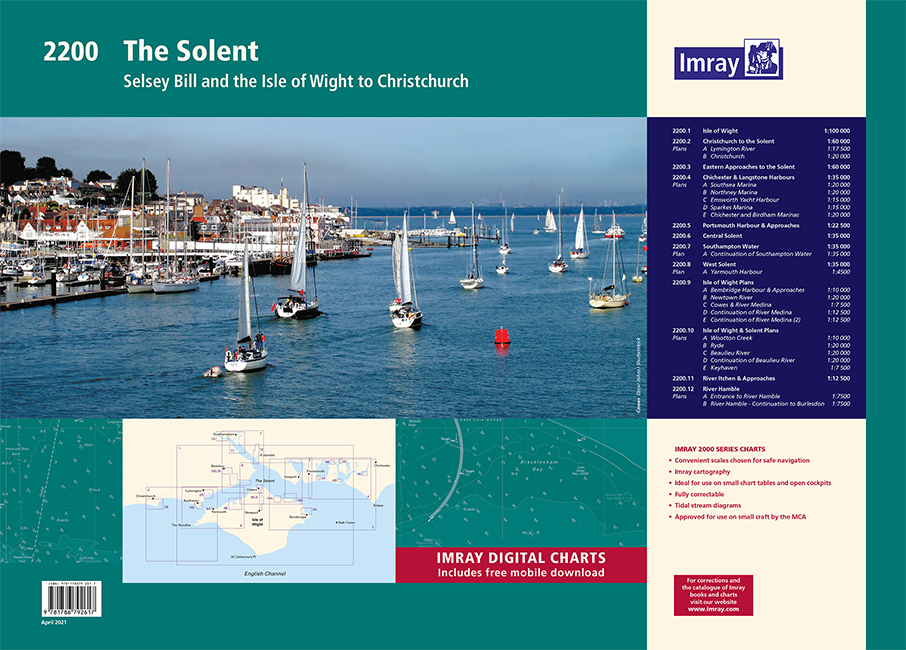 A convenient A2 format chart pack in a sturdy plastic wallet, with Imray Digital charts for the English Channel available to download.

This edition includes the latest official UKHO data at time of publication, combined with additional information sourced from Imray's network to make it ideal for small craft. The chart pack includes all the navigational charts and tidal data for passage, approach and mooring.
RRP£45.00 Due for release 19th April. Available to order via emailing sales@southbankmarine.com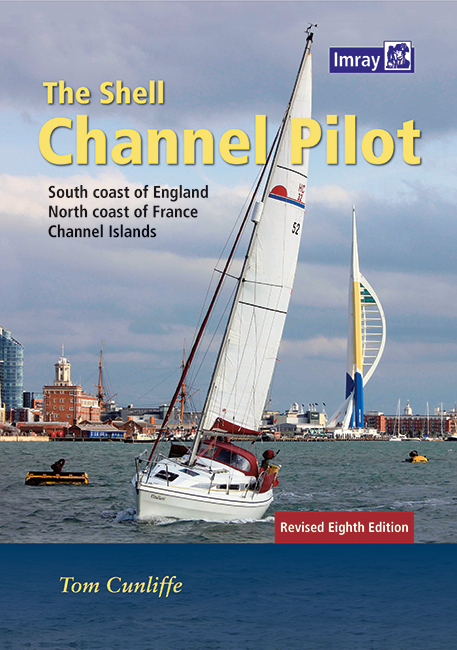 For more than 80 years The Shell Channel Pilot has been the ultimate authority on English Channel navigation and pilotage. Following the pioneering work of the legendary Adlard Coles, the book was passed to Captain John Coote RN in 1982. In his comparatively short, ten-year tenure, John Coote expanded the coverage from the English coast to include northern France. He also applied a characteristic humour to the shoreside aspect of the text which has been enthusiastically adopted by Tom Cunliffe, the present and third compiler of this unique work. This is a revised 8th edition published by Imray under Cunliffe's hand.

'Shell' is more than a harbour guide. It also provides a reassuring hand on the shoulder for Channel navigation, with useful passage notes gleaned from the compiler's personal experience of more than 40 years running the tides and finding the eddies. His frank remarks regarding harbour and recreational facilities have long been relied upon by sailors of all generations and nationalities. While leading to some enlightening secrets, they have been known to cause landlords whose establishments fall short of the required standard to lose the will to live.

Working with harbourmasters and a dedicated group of carefully selected yachtsmen and women, Cunliffe has kept this pilot as up to date as is humanly possible. More than being technically sound, which is to be expected from a Yachtmaster Examiner, the book is also a thoroughly enjoyable read.
Available in Paperback RRP£37.50 Due for release 20th April. Available to order via emailing sales@southbankmarine.com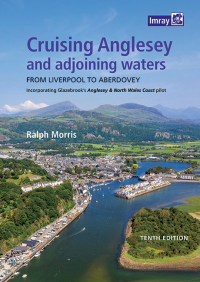 Ralph Morris's guide to the island of Anglesey and the North Wales coast was first published over 30 years ago. At that time it covered little more than the island itself. Over the years the pilot has been extended and it now provides information about tides, dangers, harbours and anchorages from Liverpool (marina) to Aberdovey (the same waters covered by Imray's 2700 chart pack), plus the author's own chart graphics.

This fully updated tenth edition is spiral bound for easy cockpit use, full colour, chart graphics, aerial views (courtesy of Google Earth) and nearly 100 original photos. It also makes reference to the most noteworthy event in recent years, the wholesale destruction of Holyhead Marina by Storm Emma in March 2018.

Ralph Morris learned his way around Anglesey the hard way – in a day boat with a single chart and a compass which one day chose to fail in fog. That's not the only thing which prompted the decision to write this pilot, though. The prime mover was the increasing scarcity of Henry Glazebrook's 'Anglesey & North Wales Coast Pilot', which has got him out of many tight corners. The detail and precision of Glazebrook's "Anglesey & North Wales Coast " pilot, is legendary and, through this guide, the author hopes to maintain its accessibility to yachties sailing these waters.
Available in Paperback RRP£37.50 Due for release 20th April. Available to order via emailing sales@southbankmarine.com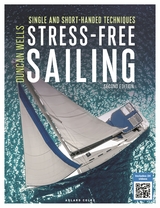 This brand new edition of Stress-Free Sailing is the answer to single or short-handed crews' prayers – a step-by-step handbook addressing the most common sailing situations that anyone cruising will have to manage.

Here you will find clever, highly effective and successfully tried and tested shorthanded solutions for dealing with everything from getting off and then back onto the dock in a variety of wind and tide configurations, sail setting and reefing, mooring and anchoring, to sailing in heavy weather and new techniques for man overboard, all clearly illustrated with straightforward diagrams and sequence photos. 24 QR codes dotted throughout the book link to online video demonstrations to bring the techniques to life.

As single or short-handers you have to plan carefully, prepare properly and be able to anticipate. This new edition is a godsend with its original techniques for coping in every situation. It is fully revised throughout with new practical tips and advice on mooring, navigation, anchoring and safety at sea.
Available in Paperback RRP£16.19 and PDF eBook RRP£14.57 Due for release 10th June 21. Available to order via emailing sales@southbankmarine.com
This popular map of the non-tidal Thames from its the source above Cricklade to the entrance of the Grand Union Canal at Brentford below Teddington Locks is convenient in any cockpit and is the ideal companion to Chris Cove-Smith's River Thames Book.

Full information on boating facilities is included in the mapping, as are all the essential details on restricting dimensions, locks and bridges. Also shown are pubs, the Thames Path and other features of special interest. Large-scale insets of Oxford, Abingdon, Reading, Henley, Windsor and Eton, the River Wey junction and the entrance to the Grand Union Canal add to the clarity of this well presented map.
Available in Paperback RRP£9.95 Due for release June 21. Available to pre-order via emailing sales@southbankmarine.com